Hello, today we are bringing together a tiny two-story 20ft and 40ft container located in California, United States.
I will introduce a beautiful house built.
Let me briefly introduce the shipping container house.
When we look at the container house from the outside, it was built by placing two 20ft containers on top of each other.
A 40ft container was placed on the side and designed as a ladder.
The cargo container house is planned on three floors.
The one-of-a-kind container, the third floor of which is designed as a terrace, offers a perfect experience for watching the stars and relaxing.
A large veranda welcomes us at the front of the container house. There is a large pool and jacuzzi on the veranda.
You can also relax on the patio with beautiful garden furniture. Outside of the patio there is a fire pit for cooking sausages.
Solar panels are placed on the side of the cargo container house and there is electric vehicle charging.
There is a container on the side of the veranda. There is a bed hidden in the closet in this container, there is a kitchen, bathroom and toilet.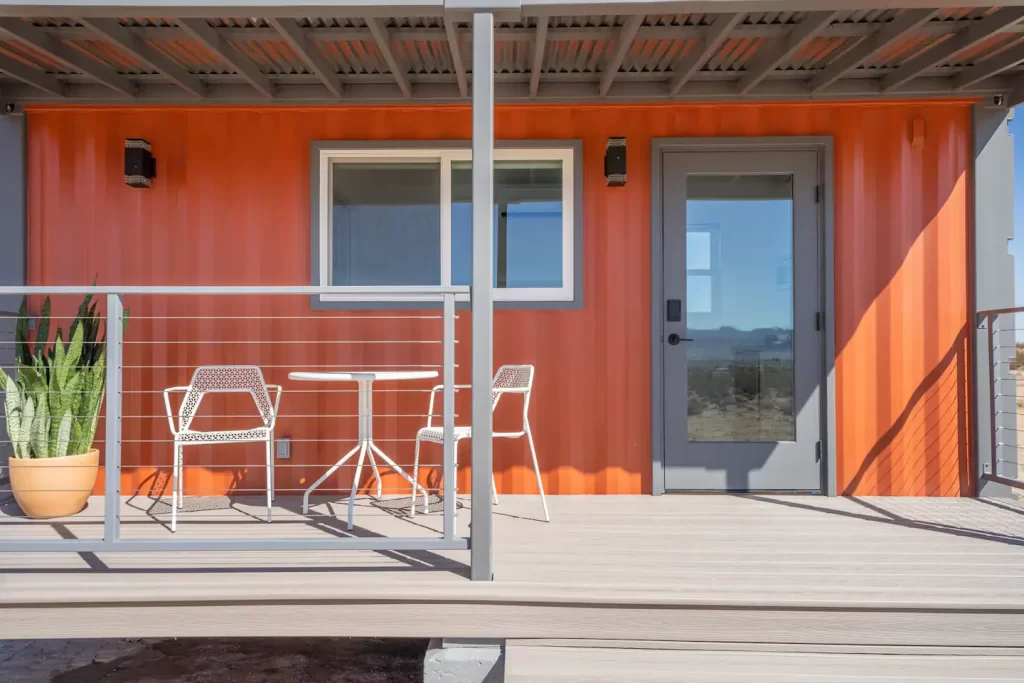 The exterior of the container is brown. When we look at the interior, it is decorated in a light color.
There are three bedrooms in the container house. Two bedrooms have a queen size bed. The other room has a double bed.
There are 2.5 bathrooms in the small house. When we enter the house, a white kitchen welcomes us. This kitchen is extremely new.
and high quality built-in sets. The bedrooms are decorated with white furniture. The windows of the container house are large and very
It allows you to take advantage of the daylight.
If you want to stay in a shipping container house, you have to pay 332$.
Container houses are very popular lately.
If you want to build your own container house but can't decide, I recommend you to visit our website.