The Leone – Loray studio is the author of this two-story family home built with containers and located in the GBA South. The objective was to solve with the least amount of resources possible a comfortable home that would take advantage of the benefits of the natural environment.
After some evaluations, " time became the engine of the idea; to be able to make a house in a shorter duration of work", the designers recognize and clarify: "Without a doubt the economic part was another pattern that led us to follow We study that with a 35% lower budget, the same project could be carried out with the same quality as the traditional system. "
The program required three bedrooms, two bathrooms, a toilet, living room, kitchen and a gallery space with barbeque, garage and laundry. For this, seven containers plus cuts were needed, which were then used and were an essential part of the project.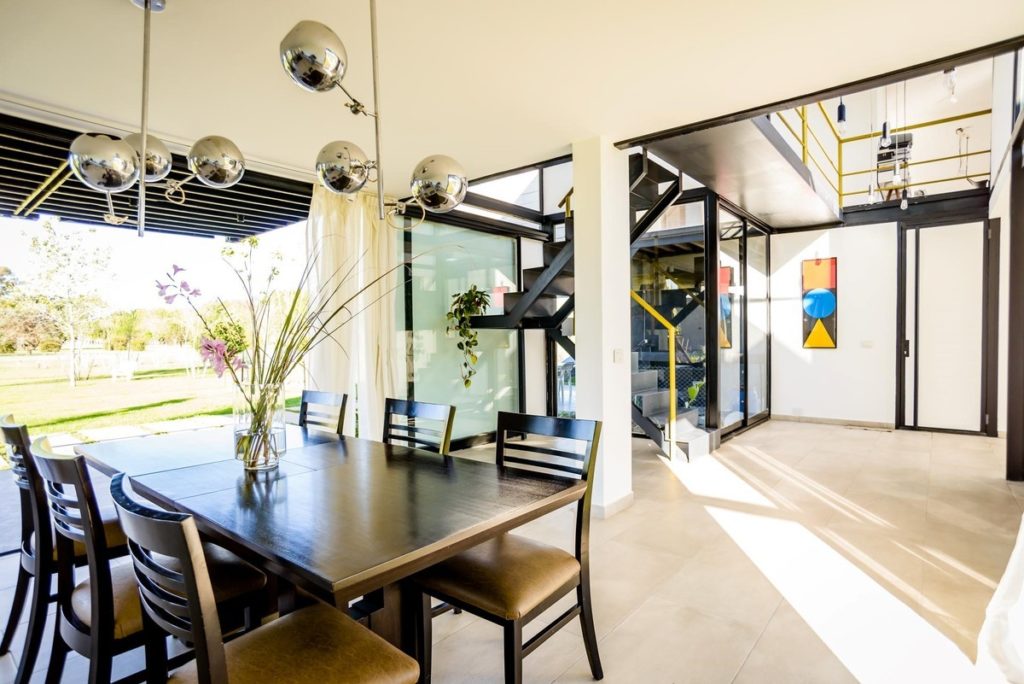 The complete work lasted five months, at the end of which 210 m2 covered plus 70m2 semi covered were built . Only brick was used for the grill and the laundry.
The social sector of the house and a desk are displayed on the ground floor. All these spaces were resolved with three 40-foot containers ; two completely paired and one split in two halves to house the kitchen, on the one hand; and study, on the other.
A circulation spine runs through the house from end to end. In addition on the ground floor a garage space and semi covered barbecue area was created from the location of the upstairs containers that "fly" on the lower level.
The surplus plates were reused to generate the double height access space, the vertical circulation and the spatial linkage between the two wings that sectorize the upper floor . The main and secondary doors were also solved with scraps of sheets and were manufactured to blend in with the container. In this way the scale, the view and the immensity are accentuated "that for many inside a container is unimaginable", assure its authors.
The private housing sector was located on the top floor with four containers. In two of them, together, the main room, the bathroom and the dressing room were resolved. The architects explain that the modules worked in order to "create a void that flies over the access and generates a sunshade that protects privacy and produces the shade that a bedroom needs."
The remaining two containers were destined for children's bedrooms, a shared bathroom and a playground.
As for the facade, on the ground floor you can see the corten steel sheet , while the upper floor is clad to achieve a contrast between the solid and the harmonic.
Source : Clarin